THERMAL IMAGING CANADA
~ Specializing in Equine Infrared Imaging ~
HOW EQUINE THERMAL IMAGING WORKS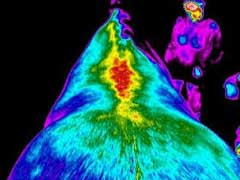 A horse has a very specific temperature pattern. Changes in this pattern, as a result of inflammation, injury or disease, can be detected with an infrared camera. For example, a lame horse might have shoulder, elbow or back issues. Traditionally, to determine the exact location requires sedation and costly imaging of multiple body regions as well as multiple visits to the vet. With thermal Imaging, photos can accurately detect the location of a developing or existing dysfunction in its early stages. This can be done without sedation or touching of the animal.

Screening is non-invasive and completely safe, as it emits no radiation. Imaging can be repeated as often as needed, is mobile and costs less than standard methods. It often results in an earlier diagnosis, a more accurate treatment, and considerable financial savings for the owner.
Conditions that Equine Infrared Imaging
can help to assess include:
*
Lameness & Referred Pain
*
Sprains/Strains
*
Infections
*
Inflammatory Processes
*
Neurological Dysfunction
*
Malignancies
*
Vascular Dysfunction
*
Stress Fractures
*
Musculoskeletal Injuries
*
Success of Treatment
*
Healing Process and Prognosis
*
Pre-Purchase Exams




Our services include:

*
Early Detection & Assessment
*
Preventative Care
*
Treatment/Recovery Monitoring
*
Pre-Purchase Exams
*
Saddle Fitting Issues

Sample Equine Thermal Imaging Report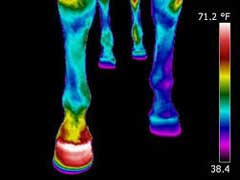 Thermography, when combined with a thorough clinical examination by your veterinarian, is an excellent imaging technique for assessing lameness. It is particularly helpful in determining areas of inflammation in the upper limbs, but can also be readily used to assess inflammation of the lower limbs.

It has been useful in assessing cases of palmar foot pain and has helped identify areas other than the navicular bone that may be sources of pain.

It has been useful in the assessment of joint problems as well as tendon and ligament problems.

Since the modality is non-invasive, it can readily be used. With recent technological advances, the equipment is completely portable and can readily be taken to farms, arenas, etc.

On average, a full body imaging session can take approximately 30 minutes. An important aspect is the degree of the animal's excitement or how still they can stand.


In the beginning, your animal's history of symptoms will be taken down followed by a visual examination. The area chosen for the imaging will be checked, too. All external factors which can create 'artifacts' on a thermal scan will be recorded by the thermographer to ensure that proper screening protocols were followed.

The camera is set up and the imaging will commence.

During the screening, images are recorded or retaken as needed and briefly reviewed right after the session to assure completeness. The images are then digitally analyzed and interpreted. At the end, the results are edited into a Thermography Report supplied to the customer with all the images taken.
Note:
Though you can see the images right after the session, they will be provided by email to you with a detailed report. However, only a veterinary can make a diagnostic impression or propose a course of treatment. Thermal Imaging Canada will send a copy if requested to the veterinarian or health care professional of your choice.
- - - - - - - - - - - - - - - - - - - - - - - - - - - - - - - - - - - - - -

For rates and more information about Thermal Imaging Canada services,
please email us at thermalimagingcanada@gmail.com or call at 306-361-1163
Technicians:  Carolyn Kemps & Megan Kemps
Thermal Imaging Canada is available by appointment at events, ranch calls and in-house appointments.