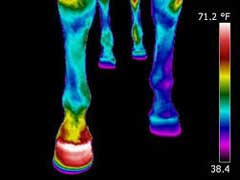 Equine Thermography can identify areas of injury up to three weeks before your horse exhibits clinical symptoms.  You might get the feeling your horse is a little bit "off," but not really know why - Equine Thermography can show you!

Although most experienced horse owners are able to identify heat in a leg or foot, usually indicating inflammation, a pulled tendon or an abscess, there are often symptoms of discomfort or poor performance where the horse is showing no physical signs of injury. A human touch cannot identify changes in temperature of less than 2 degrees, however, a thermal camera can "see" and detect changes of less than 0.5 degree, making it easy to identify problem areas, where heat is not obvious to the touch.

WHEN TO USE THERMAL IMAGING CANADA

| | |
| --- | --- |
| * | Beginning of the year to determine overall health and where any soreness may be present |
| * | After an unusual performance.  If your horses doesn't perform to usual standards, a quick thermal image can determine if it was due to soreness or an injury. |
| * | At any sign of lameness.  It's not as easy to determine why a horse is lame as it is to actually see the lameness.  Thermal imaging can show if it's a shoulder issue, in the foot, hock, stifle, etc so you have the best idea on how and where to start with the treatment. |
| * | Signs of infection.  Infection radiates a lot of heat, so if you think your animal has any type of infection, a thermal image can confirm. |

A PRO-ACTIVE APPROACH TO HORSE HEALTH

For owners who are conscious of preventative approaches to their horse's health and concerned about the impacts upon their horse's back, lower limb structures and hoof balance and health will want to take benefit from a regular screening process and share results with their regular bodyworkers; equine massage therapists, physiotherapists, farrier, and Veterinarian.

Regular scans can show up slight changes and irregularities that may be addressed and rectified, by management or treatment, before any actual damage has taken place and more frequently for someone wishing to monitor an injury or return to work after breakdown. 


It can also be helpful for owners to be able to present a thermal image to their vet if they are worried about a particular issue or an indefinable 'not quite right-ness'. A thermal report may provide the information to allow the jigsaw pieces of the horse to fall into place without the cost of extensive X-rays, MRI's, CT scans and Ultrasounds, it provides a place to begin!



A thermal imaging inspection is a non invasive procedure, it's just like taking a video of your horse, 

We will travel to your premises and provide you with a full imaging survey of your horse ensuring an optimum viewing environment, using a trained technician and following a strict protocol of imaging techniques.  

It doesn't take long and you can see the results displayed as an instant, clear image on an LCD screen. 

In addition, all images as well as a full report will be provided to you and can be made available to your Veterinarian, farrier, message therapist or your chosen equine professional.

SADDLE FITTING

Owners are regularly troubled by finding the right saddle for their horse. Thermal imaging will give you the information that you need.


| | |
| --- | --- |
| * | to understand how well your current saddle is fitting |
| * | to buy a new saddle with confidence |
| * | to reveal rider-related imbalances and effects on the saddle/horse |
SAMPLE SADDLE FITTING REPORT
- click to enlarge
*